Every day it seems, I read something about Judges in this Country, or someone contacts me about them, or I experience them first hand, or perhaps, one of the attorneys that I have worked with feels their wrath.
The judges hate pro se litigants.  The judges hate foreclosure defense lawsuits.  The judges hate almost everything and/or everyone, except their fellow judges, or people they knew while they were attorneys, or maybe their own families.  It has come to the point, that I told someone the other day, we need to get rid of all govt., and all judges, and start anew.
I'm serious.  Most people don't encounter the crimes that the judges are committing.  Or so I thought.  I have read some things lately, where more and more people are noticing that unless you are a bank, an attorney on the judge's good side, or a multi-billion dollar corporation, there is no justice for you in the US.
Read on, and see some of what I am talking about.  I have added in parts of articles supporting what I am claiming.  There will be links to the articles, so that you can see for yourself, where the information came from:
From:
Sunday 18 October 2015 08.00 EDT
Divorced mother Margaret Besen tells her five-year struggle to get justice, just one story in the hundreds of judicial transgressions across the US revealed in a Guardian and Contently Foundation for Investigative Reporting collaboration
https://www.theguardian.com/us-news/2015/oct/18/judge-bias-corrupts-court-cases
Judge William Kent's preliminary ruling seemed like a first step toward compromise. Margaret and Stuart Besen, who agreed their marriage was beyond repair, would remain in their suburban Suffolk County house, living in separate rooms – and keeping away from each other – while sharing custody until a resolution could be reached.
But within weeks, the situation deteriorated. Stuart Besen, a politically connected attorney for the town of Huntington, had an anger problem, Margaret told authorities. The couple's screaming matches left Margaret feeling intimidated and their children – a daughter, 11, and son, 7 – terrified, she said. So in August of that year she obtained an order of protection prohibiting Stuart from harassing her. Three weeks later, Stuart entered Margaret's bedroom and hovered over her as she slept, she told police. They arrested him for violating the order, reporting that Stuart had stared down at Margaret with his arms folded on three consecutive nights. She got temporary possession of the family home.
In the years that followed, Besen's hopes for an equitable settlement dwindled as she battled a series of harsh and hard-to-explain decisions against her. Though she could never prove anything, she suspected that the scales had tipped for reasons unrelated to the evidence in her case. If true, Besen faced what experts say is one of the most troubling threats to our nation's system of justice: judges, who, through incompetence, bias or outright corruption, prevent the wronged from getting a fair hearing in our courts.
"The decorum and bias and the perfectly unethical behavior of the judges is really rampant," said Amanda Lundergan, a defense attorney in Royal Palm Beach, Florida, who confronted a nest of judicial conflicts in her state's rapid-fire foreclosure rulings – dubbed the "rocket-docket" – following the housing market collapse. "It's judicial bullying."
Judges in local, state and federal courts across the country routinely hide their connections to litigants and their lawyers. These links can be social – they may have been law school classmates or share common friends – political, financial or ideological. In some instances the two may have mutual investment interests. They might be in-laws. Occasionally they are literally in bed together. While it's unavoidable that such relationships will occur, when they do create a perception of bias, a judge is duty-bound to at the very least disclose that information, and if it is creates an actual bias, allow a different judge to take over.
All too often, however, the conflicted jurist says nothing and proceeds to rule in favor of the connected party, while the loser goes off without realizing an undisclosed bias doomed her case.
Hundreds of judicial transgressions have been uncovered during the last decade, with results that cost the defeated litigants their home, business, custody, health or freedom.
But court critics say that one reason judicial violations are common is because they frequently go unpunished. When litigants ask a judge to back away because of a conflict, they risk being told no, then face possible retaliation, so many don't bother. If a litigant or an attorney files a complaint with an oversight body, there's only about a 10% chance that state court authorities will properly investigate the allegation, according to a Contently.org analysis of data from 12 states.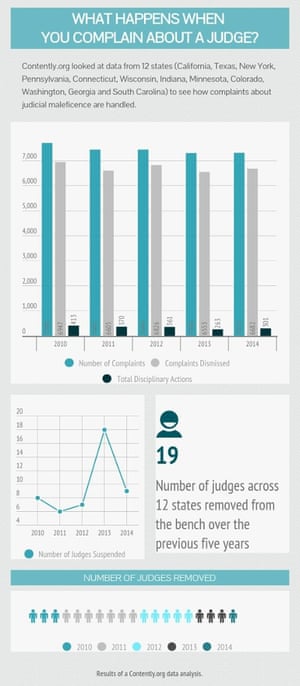 The analysis shows that a dozen of these commissions collectively dismissed out of hand 90% of the complaints filed during the last five years, tossing 33,613 of 37,216 grievances without conducting any substantive inquiry. When they did take a look – 3,693 times between 2010 and 2014 – investigators found wrongdoing almost half the time, issuing disciplinary actions in 1,751 cases, about 47%.
The actions taken ranged from a letter of warning to censure, a formal sanction that indicates a judge is guilty of misconduct but does not merit suspension or removal.
Actually removing a judge was a rarity. Just 19 jurists in 12 states were ordered off the bench for malfeasance, which is about three per decade for each state. And even that result is becoming less common, with only one removal in 2014 and three in 2013 among all 12 states.
The states examined – California, Texas, New York, Pennsylvania, Connecticut, Wisconsin, Indiana, Minnesota, Colorado, Washington, Georgia and South Carolina – were chosen because they comprise a representative sample from different populations and areas of the country and because they had matching data for the years 2010 through 2014.
Judicial discipline at the federal level is almost non-existent. A Contently.org examination of the most recent five years of complaint data shows that 5,228 grievances were lodged against federal jurists between 2010 and 2014, including 2,561 that specifically alleged bias or conflict of interest. But only three judges were disciplined during those years and each got the mildest rebuke on the books: censure or reprimand. None was suspended or removed.
Margaret won a court order of protection barring Stuart from contact with her children for a year. But when Kent issued his final decree less than six weeks later, he awarded Stuart full custody, while Margaret was allowed only supervised visits. And he ordered Margaret to pay back half the cost of her nursing degree and to sell her diamond engagement ring and split the proceeds with Stuart. The judge also reversed the support arrangements. While Stuart would pay $1,500 a month in maintenance to Margaret, she now owed Stuart $153.90 a week for the children, even though she was earning about $13,000 a year as a part-time aide in an assisted-living facility.
Margaret began to look into her husband's dealings and discovered, through searching public records, that he and judge Kent had possible connections. In 2010, Stuart was appointed as the Suffolk County representative on a statewide commission for vetting local judicial candidates. That same year, an organization based at Stuart Besen's Garden City law office, the Long Island Coalition for Responsible Government, donated $7,500 to candidate Richard Ambro, who got elected and became one of Kent's fellow Supreme Court judges in Suffolk's 10th district. In his role as Huntington's town lawyer, Besen argued cases before these very judges. He'd entered a circle of judicial insiders.
"I'm in the middle of a large group of people who've got money and influence and who are all connected," said Margaret Besen. "I'm not being afforded an opportunity to get a fair shake."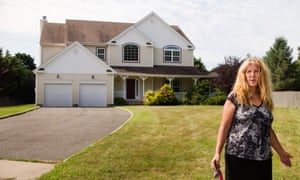 Above:  Margaret Besen stands in front of the former Besen family home, now unoccupied in Commack, Long Island. Photograph: Alan Chin
Margaret had no way of knowing whether the connections she uncovered played any role in how Kent ruled in her case. But her concern deepened when she made an additional discovery about her house. Kent had ordered the Besen home, the most valuable marital asset, to be sold and the proceeds divided, putting Margaret in line to receive possibly hundreds of thousands of dollars. Then she found an online listing offering the property for sale – with the judge's wife, Patricia Kent, as broker. The home, which was listed for $749,999 with Patricia Kent's photo and contact information on Realty Connect USA, is currently more than $15,000 in arrears on its property taxes and no longer appears to be actively offered. Margaret was evicted from the house in 2013 and lives in a modest apartment a few miles away. She has yet to receive a penny for her interest in the property.
Scott L Cummings, a professor of legal ethics at UCLA law school, said the case raised "significant ethical red flags", because of the judge's wife's alleged involvement in offering the Besen family home for sale. "Not knowing the details of how his spouse might have been assigned as broker, the idea that a judge might benefit financially from the sale of a property in dispute in a pending matter seems to raise a serious question of impartiality."
Ronald Rotunda, a professor at Chapman University law school in Orange, California, said: "What judge Kent did here seems odd. The husband makes over a half million a year, she makes $13,000 a year, and the judge orders her to pay child support (which is tax free to him and not deductible for her)."
But a culture of judicial impunity extends far beyond Long Island's county courts. Indeed, even the US supreme court has been tarnished on this issue.
Justice Steven Breyer owned $215,000 in health-care stocks when deciding on the legality of the Affordable Care Act in 2012. Justice Samuel Alito's portfolio included $2,000 in stock in The Walt Disney Co. in 2008, the year the court heard Disney, FCC v. Fox Television Stations. And perhaps most famously, justice Antonin Scalia has participated in the Bush v. Gore case, even though his son Eugene's law firm represented one of the parties. In another case, Scalia remained in the panel despite having gone on a duck hunting trip with former Vice-President Dick Cheney while he was being sued to reveal the details of secret meetings he held with oil company executives in the run-up to the 2003 invasion of Iraq.
The online vitriol directed at unscrupulous judges, which began in the mid- 2000s, has built to a howling digital crescendo. Websites including The Robe Probe, The Judiciary Report and The Robing Room, which rate judges the way Yelp rates restaurants, are rife with railing as embittered, mostly anonymous plaintiffs rip into judicial decisions they feel were biased or corrupt.
In an appeal of a case in West Virginia court, A.T. Massey Coal Co. CEO Don Blankenship spent $3m to elect Brent Benjamin, who ultimately provided the swing vote that overturned a $50m judgment against his company. Benjamin rebuffed repeated demands that the newly elected justice recuse himself because of his obvious conflict.
The US Supreme Court ruled that Benjamin's bias was so extreme that his failure to step aside violated Caperton's right to due process under the Constitution's Fourteenth Amendment. The case, which spawned Grisham's 2008 best-seller, "The Appeal," underscored the kind of underhanded dealing that has stained the judiciary.
A further nudge for reform came last year when the Center for Public Integrity published a report on financial conflicts of interest. Among its findings: on 26 occasions in the preceding three years, federal appellate judges ruled on cases involving companies in which they owned stock or where they had a financial tie to an attorney appearing before them.
A further nudge for reform came last year when the Center for Public Integrity published a report on financial conflicts of interest. Among its findings: on 26 occasions in the preceding three years, federal appellate judges ruled on cases involving companies in which they owned stock or where they had a financial tie to an attorney appearing before them.
It also created a grading system to gauge how diligent each state was in collecting personal financial information from its judges, including stock ownership and outside sources of income, and how accessible that data was to the public. The center said that 42 states, plus the District of Columbia, failed its test. Six others earned a D grade, while two – California and Maryland – got Cs. California's score, 77, the highest of any state, was seven points below the federal government's grade of 84.
The report highlighted the type of conflict that can be most readily identified and that doing so requires full disclosure from the judges. Stock ownership, even if minimal, should automatically disqualify a judge from hearing a case, many experts believe. "If a judge owns a single share in a company involved in a case, he should recuse himself instantly," says Rotunda, a leading law scholar.
It's been more than two years since Margaret Besen has seen her children, who are now 12 and 16. There's no money to pay the court supervisor, so they can't visit. Nor does Besen have the funds to continue fighting. Kent retired shortly after making his decision.
"The hardest thing in my life is that I can't be with my children and I can't have an impact on my children's upbringing," Besen said over coffee at a Long Island diner. "A lot of people do not have any idea how the judicial system works or doesn't work until you're in it. We think we're in a democratic society. We think we're run by rules. But they are not being upheld by the court at all."
This story was produced in collaboration with The Contently Foundation for Investigative Reporting.
In recent years, America's corporations have created a private system for handling disputes that benefits them greatly while denying consumers their day in court.
Worse, according to a recent series in The Times, that system has become vast and more entrenched as companies increasingly require customers, employees, investors, patients and other consumers to agree in advance to arbitrate any disputes that arise in their dealings with a company, rather than sue in a court of law.
Such forced-arbitration clauses, found in the fine print of contracts, also typically bar aggrieved parties from pressing their claims as a group in a class action, often the only practical way for individuals to challenge corporations. In addition, corporations effectively control the arbitration process, including the selection of the arbitrator and the rules of evidence, a stacked deck if ever there was one.
As if that is not troubling enough, it is extremely difficult to avoid or get out of forced-arbitration clauses and class-action bans, particularly since they were upheld by two misguided Supreme Court decisions in 2011 and in 2013.
From 2010 to 2014, corporations prevailed in four out of five cases where they asked federal judges to dismiss class-action lawsuits and compel arbitration, according to The Times's articles. People who were blocked from going to court as a group usually dropped their claims entirely, in part because class actions are often the only affordable way to file lawsuits. If successful, they can deter future corporate wrongdoing because even small payouts, multiplied over all similarly mistreated customers, can be very large.
Indeed, faced with arbitration, it appears that most people do not pursue remedies to their grievances at all. Verizon, with more than 125 million subscribers, faced 65 consumer arbitrations between 2010 and 2014, The Times's report found. Sprint, with more than 57 million subscribers, faced six. Time Warner Cable, with 15 million subscribers, faced seven.
Even more disturbing, the shift away from the civil justice system has gone beyond disputes about money. Nursing homes, obstetrics practices and private schools increasingly use forced-arbitration clauses to shield themselves from being taken to court over alleged discrimination, elder abuse, fraud, hate crimes, medical malpractice and wrongful death.
For the most part, Congress has looked the other way. Federal regulators, however, are starting to fight back. The Consumer Financial Protection Bureau is expected to propose a rule soon to forbid arbitration clauses that ban class actions in cases involving financial services and products. The Centers for Medicare and Medicaid Services, which is expected to issue updated nursing home regulations next year, is considering a ban on forced arbitration clauses in nursing home contracts.
Reversing the broader trend of forced arbitration, however, will require public outcry loud and long enough to stir the White House and Congress to action. Many people interviewed in The Times's series did not realize that their right to sue had been lost until they needed it. A common refrain was the disbelief that this could happen in America. But it is happening, and it needs to stop.