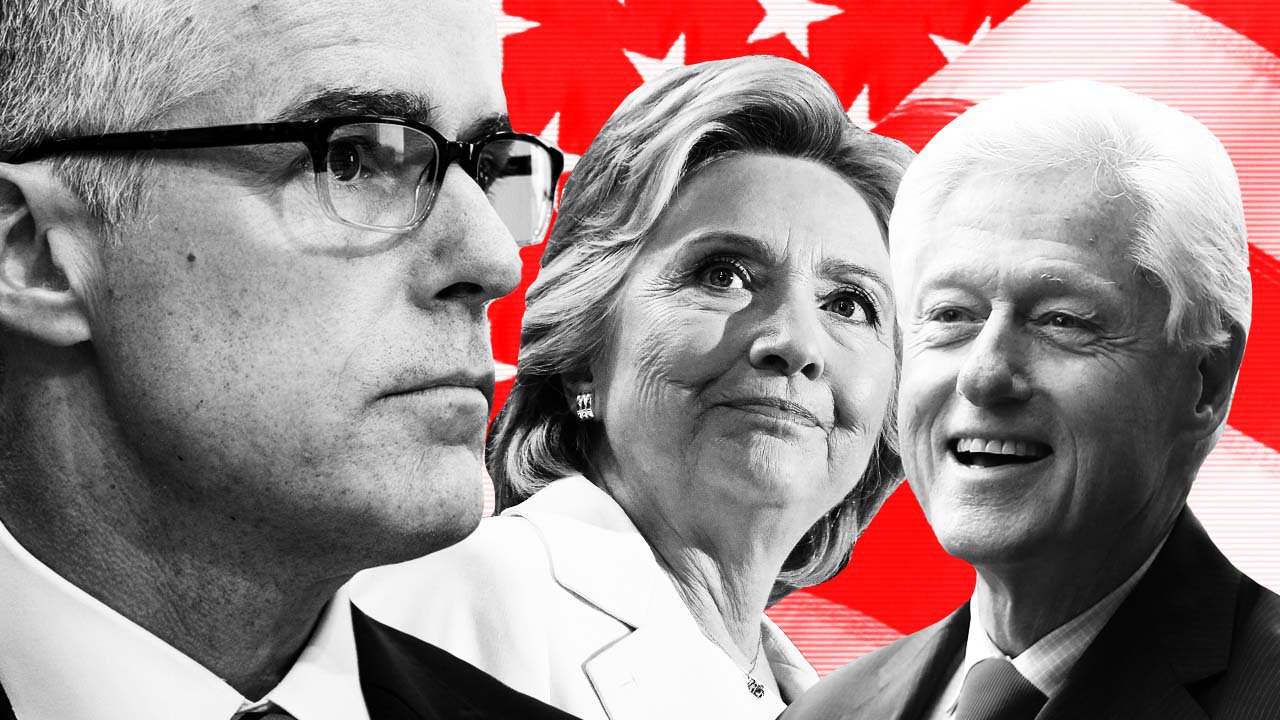 INSPECTOR GENERAL: McCabe & Wife Were Neighbors for Years With Bill & Hillary Clinton; Friendship Spans Decades Before McCabe Cleared Hillary in Email Probe
Posted on April 11, 2018 by Investigative Bureau
https://truepundit.com/inspector-general-mccabe-friendship-spans-decades-before-mccabe-cleared-hillary-in-email-probe/
Inspector General investigators and real estate records confirm Andrew McCabe and his wife were long-time neighbors and likely family friends with Bill and Hillary Clinton in Chappaqua, NY where the former President and Secretary of State still reside.
Decades before McCabe cleared Hillary in the FBI's controversial email investigation. From recent revelations, it appears the two families — the McCabe's and the Clinton's — have a personal and professional alliance spanning three decades.
In fact, the McCabe's lived a half- mile away from the Bill and Hillary for years while Andrew worked as a supervisor with the New York FBI field office in Manhattan. McCabe likely withheld or "masked" this key information from FBI brass who examined his family's relationship with Hillary Clinton during a conflict-of-interest probe of McCabe, officials said.
Federal law enforcement officials said the revelation that the Clinton's and McCabe's were neighbors and likely family friends long before 2016 was uncovered by a mortgage loan McCabe secured from the Justice Department's federal credit union. It was the loan that revealed the McCabe's previous residence in Chappaqua to Inspector General officials, sources said.
"(Andrew) McCabe knew Bill Clinton long before the 2016 race and may have been closer friends than many of us realized," one FBI insider said. "But from what we know he didn't divulge that when he was being looked at after the Wall Street Journal uncovered Jill's (wife's) campaign money from Clinton donors and associates."
After it was publicized that his wife took $1.5 million in campaign money from Hillary Clinton-backed associates to run for office, former FBI Deputy Director Andrew McCabe was investigated for conflicts of interest by James Comey and FBI brass who cleared the now-fired FBI executive.
Even though McCabe had direct oversight of the Hillary email investigation — and his wife had taken the funds — FBI officials said McCabe assured top officials he did not steer the Clinton criminal investigation as a favor to help clear the then-presidential candidate. McCabe maintained he and his family were not linked to the Clinton family.
That appears to be untrue, officials said. From recent revelations, it appears the two families have a personal and professional alliance spanning three decades.
The two families were neighbors while Hillary was running for U.S. Senate in New York in 2000. And while Jill McCabe was involved with Hillary's 2016 presidential campaign as a volunteer, now federal investigators want to know if she worked on Clinton's 2000 campaign for U.S. Senate. Or Hillary's successful re-election campaign for Senate in 2006.
So just how did the FBI's McCabe — who lived a half-mile from the Clinton's for years in an exclusive New York hamlet of 1,400 residents — end up running the criminal investigation of his former neighbor and apparent family friend Hillary Clinton?
What are the odds?
And what was the entire relationship between the McCabe's and Clinton's during the late 1990s and mid 2000s when these families lived down the road from each other?
We now know McCabe and FBI Special Agent Peter Strzok who led the Hillary Clinton email investigation, concealed damaging evidence for weeks just before the 2016 election.
Also, did Andrew McCabe play a role in tipping off Bill Clinton about then-Attorney General Loretta Lynch's location to facilitate the infamous pre-election tarmac meeting? Only a handful of FBI brass knew of her itinerary, as an elite FBI squad is in charge of providing security for the attorney general. Days after the meeting, Lynch and Comey cleared Hillary of criminal charges from the email investigation supervised by McCabe.