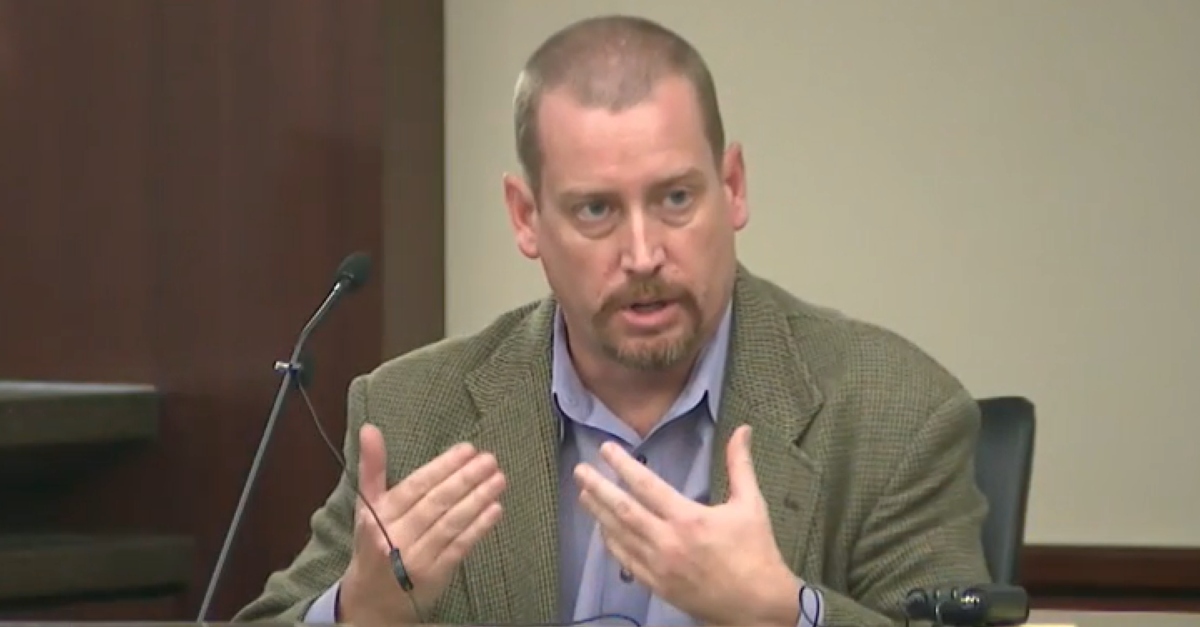 Ex-Lawyer Supposed to Be In Prison for Cheating Clients, But Now He's Wanted in His Mom's Murder
by Alberto Luperon | 5:51 pm, February 3rd, 2019
Disbarred lawyer Richard Merritt, 44, was due in prison Friday for swindling his clients. Yet it's two days later and he's now wanted for allegedly killing his mother. Cops in Dekalb County, Georgia said that officers responded to a local home on Saturday morning regarding a dead person, according to The Atlanta Journal-Constitution. They found Shirley Merritt was fatally stabbed. Cops blame this on her son.
Cops said Richard Merritt might be driving his mom's brown 2009 Lexus RX350. It features the Georgia license plate CBV6004.
The suspect shouldn't even be out, whether or not there was a murder. The suspect was convicted of settling lawsuits without clients' knowledge, and keeping the cash. He was sentenced last month to 15 years in prison, to be followed by an equally long stint on probation. Prosecutors say he took advantage of the elderly, and those alleging medical malpractice. This scheme affected 17 former clients. He'd lie to them about the settlements, and claim their cases were ongoing, authorities said. Prosecutors claim he forged their signatures and checks, and notary seals.
Merritt surrendered his law license last year. From the Supreme Court of Georgia in a filing dated January 29, 2018:
In his petition, Merritt, who has been a member of the Bar since 2000, admits that in February 2017 he settled a client's personal injury matter for $75,000, but failed to promptly disburse those funds to his client or her medical providers and failed to render a full accounting of the funds to his client.
The judge in his sentencing gave him time to prepare for prison, and turn himself in by 5 p.m. on February 1. The defendant had to deal with what was described as family medical issues before serving his sentence, according to a Fox 5 Atlanta story.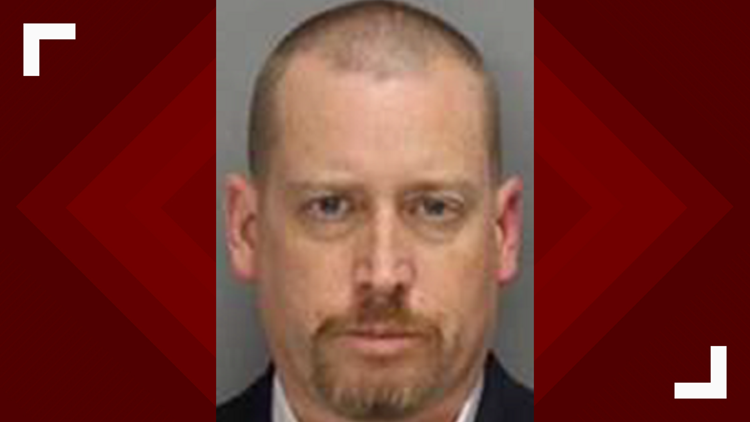 Georgia: Disbarred Lawyer Richard Merritt Jailed on Theft, Elder Abuse Charges
http://www.barcomplaint.com/attorney-theft/georgia-disbarred-lawyer-richard-merritt-jailed-on-theft-elder-abuse-charges/
The problems of Richard Merritt have come to a head with his arrest. This has been long coming has his behavior has been in question for several years.
Georgia: Disbarred Lawyer Richard Merritt Jailed on Theft, Elder Abuse Charges
Attorney Richard Merritt was disbarred Monday for pocketing a client's $75,000 settlement and jailed Wednesday on multiple felonies.
Richard Vinson Merritt
Former Smyrna attorney Richard V. Merritt, who was disbarred Monday after admitting to settling a client's suit for $75,000 and then pocketing the money, woke up in the Cobb County Jail Thursday after being arrested on separate felony elder abuse, theft, exploitation and check fraud charges.
The spokesperson for the Cobb County Sheriff's Office said he had no further information on the charges, which were apparently filed by the Smyrna Police Department. The booking report includes a notation that Merritt is to be held for the Fayette County Sheriff's Office, where a press liaison said they received a bench warrant for "indirect criminal attempt."
He provided no further information, and there was no immediate response from Smyrna police.
On Friday, Cobb County District Attorney Vic Reynolds said there was little he could offer concerning Merritt's case so far.
"We have yet to receive the complete investigative file from the Cobb Sheriff's Department," said Reynolds via email. "When we do, our White Collar Unit will begin the process of determining what charges we will proceed to the grand jury with. In addition, our Investigators will begin reviewing the file upon receipt to see if there are any additional victims or charges which need to be pursued."
Merritt remained in jail on Friday afternoon.
Merritt is the subject of multiple civil suits in Cobb County, including one filed by a woman who claims he forged her name on a $150,000 settlement agreement and check without her knowledge. She claims Merritt never turned over any funds.
He also faces several legal malpractice and fraud lawsuits in Cobb County from clients claiming he agreed to handle their cases and then never filed them and never pursued any actions.
Merritt has represented himself in each of the lawsuits.
The attorney for a plaintiff in one case, Sapp & Moriarty partner Daniel Moriarty—interviewed before word of Merritt's arrest was known—said he was surprised at the mild tone in the state Supreme Court's disbarment opinion, which only said Merritt "settled a client's personal injury matter for $75,000 but failed to promptly disburse those funds to his client or her medical providers and failed to render a full accounting of the funds to his client."
"That's a euphemism for stealing money," said Moriarty. "I talked to an investigator who has seen his bank records and determined that he had stolen hundreds of thousands of dollars. It just blows my mind what he's gotten away with."
According the bar complaint reviewed by the Daily Report, Merritt was retained to handle a personal injury matter in December 2016 and settled it last February, cashing the forged check Feb.7. On Feb. 10, he filed a lawsuit "and continued to lead me on until late May 2017 when I learned what he had done," the confidential complaint said.
"I have never seen a dime of the $75,000," said Merritt's former client.
Another civil suit filed in Cobb County State Court last year said Merritt forged a husband and wife's signature on a settlement and check in a medical malpractice case and never told them.
Another complaint said Merritt accepted a med-mal case and continually told his client that he was investigating it. Merritt sent emails saying "All is well and we are moving forward on your case," and "No worries I'm on it!"
Then he stopped accepting the woman's calls, and the filing deadline passed.
In that case, Judge Maria Golick struck Merritt's answers and ordered a damages-only trial after finding he "willfully failed to respond" to hearing notices. Golick scheduled a show-cause criminal contempt hearing, and the decision is apparently still under advisement, according to court records.
In the case Moriarty is handling, Merritt also allegedly claimed to be conducting discovery and searching for experts, even scheduling bogus depositions for his clients, only to cancel them at the last minute.
Merritt was the principal for the Smyrna-based Merritt Firm, whose offices were the subject of several dispossessory actions between 2015 and 2017, according to court records.
Last August, Merritt sued two attorneys on behalf of spine surgeon and frequent medical expert James Chappuis. At the time, Merritt said he vice president and general counsel of Chappuis' Orthopaedic & Spine Surgery of Atlanta.
That case settled confidentially shortly after it was filed.
Source: Professional Legal Blog
Doctor Claims Patient, Lawyers Stiffed Him After Winning $700K at Trial
The doctor, who claims he's owed more than $200,000, also testified as an expert witness at his patient's trial.
An Atlanta spine surgeon who sometimes works as an expert witness in personal injury cases has sued a former patient and his lawyers, claiming they stiffed him on $200,000 in medical bills after netting a $700,000 jury award.
The complaint filed Monday by Dr. James Chappuis, founder and CEO of Orthopaedic & Spine Surgery of Atlanta, said he's owed $205,323 for more than two years of treatment provided to Shin Cho. Chappuis also testified as an expert witness at Cho's trial.
The complaint was filed by the surgery's vice president and general counsel, Richard Merritt, and named Cho as well as his attorneys in the personal injury action, James Rice Jr. and Thomas Schaefer.
It accuses Cho of using "pressure and misrepresentation" to convince a clinic staffer to accept just $7,500 as full payment of the debt and said the lawyers paid themselves and disbursed Cho's net award from their trust account despite knowing Chappuis was still owed.
Even the debt Cho purportedly satisfied was "erroneous" and allegedly constituted less than a quarter of the actual sum owed to the doctor, according to the complaint.
Rice denied the suit's allegations, pointing to a May 31 letter from Chappuis' practice, saying Cho's $7,500 payment satisfied his "current outstanding patient balance of $43,871.01."
"Shortly after they sent that, they contacted us to say there was a 'bookkeeping error' and that Mr. Cho owed more than $205,000," Rice said. "I retained outside counsel to get advice on what to do, and we told their office we were going to disburse the funds in two weeks, and that's what we did."
"I also contacted the Georgia bar, and they confirmed that that was the proper way to handle it, so we did all our due diligence before we distributed the money," Rice said.
Rice said the doctor and his practice were already paid more than $100,000 by Cho's insurer, and "Mr. Cho candidly feels that he doesn't owe them anything."
Schaefer said he was out of town and had not had a chance to review the complaint but was "not really sure why I've been named as a party."
"Our official quote is that we stand by the complaint as drafted," said Merritt, declining to discuss the case further.
On May 22, Cho was awarded $700,000 for claims that he developed back pain following a minor car wreck in Gwinnett County.
Rice told the Daily Report at the time that Cho drove away from the scene. He argued Cho, who already suffered at least three previous back injuries, was an "eggshell plaintiff" for whom even a low-impact wreck was dangerous.
Last year, Cho signed a "letter of protection" with Chappuis and his practice, agreeing to pay or have his attorneys pay "all outstanding medical bills" from funds accruing from the legal action, the complaint said.
The lawyers had previously worked with Chappuis on other cases and "knew the critical importance of the medical care being provided by [Chappuis], as it related to satisfying the burden of proof in proving causation and damages, and in the effectiveness of Plaintiff Chappuis' testimony, as both a treating physician and a medical expert," according to the complaint.
In fact, Rice sent Chappuis a congratulatory text message after the trial, saying the jury "liked you a lot and coming across as objective helped," while they did not "buy" the defense expert's "nonsense."
But on May 31, Cho went to Orthopaedic & Spine Surgery's main office and "through deliberate pressure and misrepresentation of the facts, convinced a clerical employee to accept $7,500 in satisfaction and payment in full of an alleged $43,871.01, which was erroneous, as the amount due and owing is $205,323.70," according to the complaint.
The complaint said that, on June 17, Chappuis' attorney sent a cease-and-desist letter to Rice "specifically instructing him not to disburse any funds" until he and his practice had been paid. On June 30 a satisfaction of judgment was filed with the court, but Rice and Schaefer "intentionally disregarded their obligation to compensate" the plaintiffs.
The suit, filed Aug. 21, names Cho, Rice, Schaefer and the lawyers' practices as defendants, and includes counts for fraud, negligent misrepresentation and breach of contract.
Rice said it is "unfortunate that the plaintiffs have chosen to bring both my firm and Mr. Shaefer's firm into a matter that is moot," and is also moot regarding Cho.
"To say the least, the lawsuit is disappointing, but in any event we will vigorously defend it, including seeking fees and costs," Rice said.
Source: Daily Report
Name Of The Attorney: Attorney Richard Merritt
Name Of The Law Firm: Cobb County District Attorney Vic Reynolds
State: Georgia
xyz_fbap: 1