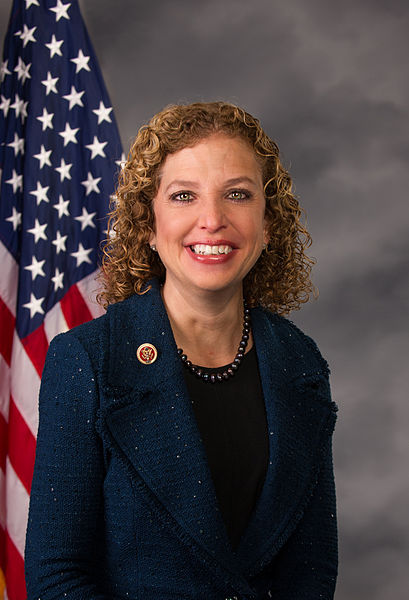 The Awans and Wasserman Schultz Threaten To Destroy the Deep State (Part 2)
http://www.thecommonsenseshow.com/the-awans-and-wasserman-schultz-threaten-to-destroy-the-deep-state-part-2/
There are multiple freight trains headed the way of the Deep State. I know it is hard to believe that Hillary will ever spend a day behind bars. However, after reading this 3 part series, it is hard to believe that she will not. If it one thing to dodge one bullet. It is another to dodge a volley of bullets fired at point blank range and that is what key members of the Deep State are facing, especially Hillary.
The Clinton email investigation by Comey and the IG report provided Federal authorities with enough to prosecute Hillary Clinton, John Podesta, Debbie Wasserman Schultz, Comey, McCabe, Paige, Strzok, Paige et al.
Keep in mind, the FBI never looked at the content on the DNC server. Many feel that would have implicated Podesta in th murder of Seth Rich. The IG report stopped just short of implicating Obama in the fake Dossier which should be sending Loretta Lynch to prison along with Rosenstein.
In Part One, I detailed how McCain, Clinton and Obama are implicated in the formation and providing material support for terrorists including ISIS. Previously, I exposed Clinton and Obama for Benghazi and the attempted cover up that they sanctioned, with regard to gun running, drug dealing and child-sex-trafficking. Benghazi, as I previously revealed was conducted to cover up these crimes, just 7 weeks before the 2012 election.
Huma Abedin and Anthony Weiner have tapes on virtually all of these events according to a deep cover FBI source. I have written about this a number of times, maybe now, people are ready to connect the same dots I did back in 2016.
Comey and Clinton
Comey's investigation was actually very complete and produced actionable evidence that should have sent Hillary to prison for life. Comey excoriated Clinton and then as he was reeling her in for the kill, he cut the line, exonerated her, and let America's biggest snake slither into the darkness. The investigation could be characterized as "EXCORIATION TO EXONERATION".
The IG Report
The IG report convicted the FBI of illegal surveillance of private citizens, collusion to plant false evidence, and most of all, flagrant violations of the Hatch Act. The Hatch Act prevents Federal employees from working to influence and publicly supporting a candidate, or in Trump's case, working to block the election of a candidate.
The IG Report followed the same exact strategy of EXCORIATION TO EXONERATION. The American people have been made aware of the fact that crimes were committed, but are told the crimes are not sufficient enough to warrant indictments. Therefore, the same pattern of EXCORIATION TO EXONERATION REMAINS IN PLAY!
America should be in the streets with pitchforks over thes two failures to indict, but instead of people like Clinton doing the perp walk, the perps are walking. However, this may change. There are two very serious revelations surfacing that even a compromised IG cannot ignore, without being charged with obstruction.
As a side note, many people have told me to back off against my crusade against Attorney General, Jeff Sessions. They say he is playing a game of deception and he and Trump have a plan to play dumb until it is time to spring the trap. Sorry, I don't believe in Santa Claus. However, Sessions, in the face of this new overwhelming evidence, will have only two choices: (1) Resign, or, (2) Indict and Prosecute.
Wasserman Schultz Could Bring Down the Deep State IF She's Not Murdered
Wasserman Schultz got away with her role in the death of Seth Rich because her brother, a federal prosecutor in Washington DC intervened and got the investigation into Seth Rich's murder stopped. I wrote extensively about this in the Summer of 2016.
However, Wasserman Schultz and her good fortune is about to come to an end. It is common knowledge that Awan was given access to classified material by Wasserman Schultz, some of it very Deep State orientated. Now, Awan and his wife have entered a guilty plea to a minor bank fraud charge. In light of all that they could have been charged with, only a minor bank fraud charge is being brought against them? There is a deal in there and it is going to have major implications on the release of the DNC tapes and Wasserman Schultz's connections to Podesta and Clinton and their criminal activities. I have been told by a reliable informant that Awan has provided information against Wasserman Schultz and Podesta. If only one of these two turn state's evidence, then it is over for Wasserman Schultz and ultimately Hillary Clinton. And if Clinton falls, so does the Deep State. Subsequently, Debbie Wasserman Schultz is about to slip on a banana peel. Why? Debbie Awan has a deal with the DOJ, separate and apart from her husband. If she makes the deal with the DOJ it goes back to good 'ole Debbie Wasserman Schultz. She is the key to concealing DNC voter fraud and the murder of Seth Rich and the Pizzagate scandal. Therefore, the Awan's present a double-barreled threat to the Deep State.
This opens up avenues to John Podesta and most importantly, Hillary Clinton. OMG, the Deep State can not afford to have Clinton investigated because it will open up everything from child-sex-trafficking to organ harvesting and how the Clinton Foundation is at the heart of all of this and their main target. The best investment in town may be to invest in a life insurance policy for Wasserman Schultz. If she's lucky, she will only be charged and convicted for obstruction of justice and aiding and abetting.
More dirt is continuing to come out on the Awan brothers. The charges border on treason and sedition, but they have gone away.How? IT is a called a plea deal. Wasserman Schultz had to have known the extent of their criminality as they destroyed evidence which would have implicated her. Here is the entire story and it is shocking. Please keep in mind the following represents old news that I previously revealed. This is why I am so frustrated with Jeff Sessions, I revealed this information two years ago and it was easy to find.
Conclusion
The Awan-Wasserman Schultz connection won't be the only bombshells that are coming the Deep State's way. There is a star witness that will be testifying to the Senate Intelligence Committee this week. And this witness knows where all the bodies are buried, as this person served in two administrations, and I guarantee you that this witness will not fall on their sword and this person is too public to murder. This will be the topic of Part Three along with the retaliatory options the Deep State has in their arsenal.