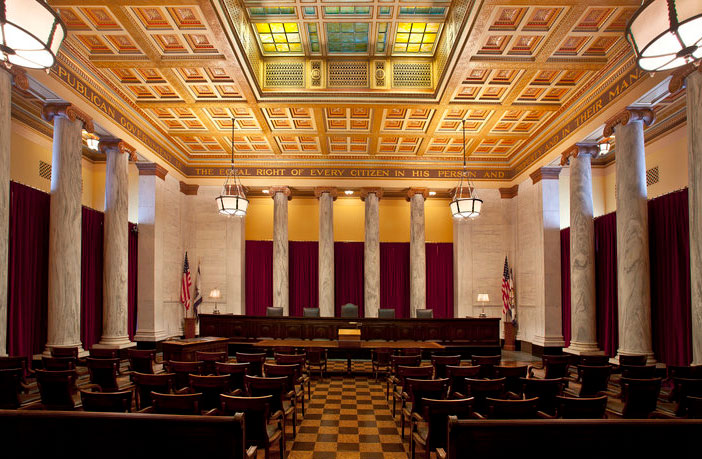 The entire West Virginia Supreme Court was just impeached. Here's everything you need to know.
By Editor August 15, 2018 No Comments
http://www.theeventchronicle.com/news/north-america/the-entire-west-virginia-supreme-court-was-just-impeached-heres-everything-you-need-to-know/
By True Pundit
West Virginia lawmakers made a historic decision Monday: They voted to impeach the state's entire Supreme Court of Appeals, the highest court in the state.
The West Virginia House of Delegates Judiciary Committee approved 14 articles of impeachment against the court's four sitting justices last week. Their alleged grievances ranged from misusing taxpayer money for office renovations to using state-owned property, including a historic desk, for personal use.
The full House of Delegates considered the articles of impeachment on Monday, ultimately approving 11 of them through a series of votes that fell along party lines, the New York Times reported.
Eight of the articles targeted the court's chief justice, Allen Loughry, who, according to the Times, has been suspended since June. Among other accusations, he is accused of lying to lawmakers and using state property for his personal use, including vehicles and gas cards.
The remaining justices — acting Chief Justice Margaret Workman and Justices Robin Davis and Elizabeth Walker — were impeached on three articles. Workman and Davis were impeached for overpaying senior status judges on lower courts, while Davis was impeached for misusing $500,000 in taxpayer funds on office renovations.
All four justices were charged with neglect of duty, abusing their power, and failing to reign in the spending of the others, according to NBC News.
The court's fifth justice, Menis Ketchum, resigned last month before impeachment proceedings began. He has also pleaded guilty to a federal charge of defrauding the state of West Virginia. He faces 20 years in federal prison.
Meanwhile, Loughry, who was already on administrative leave prior to Monday's developments, is facing a 22-count federal indictment for fraud, witness tampering, lying to federal investigators, and obstruction of justice. His criminal trial is set to begin in October. If found guilty, he faces a maximum sentence of 395 years in prison and a $5.5 million fine. – READ MORE
West Virginia Senate President Mitch Carmichael claims the Republican party is responsible for the state's economic turnaround and believes the election of President Donald Trump has only added to their prosperity.
"For the first time in over 83 years the people of over West Virginia selected the Republicans to lead the state in 2014," Carmichael told The Daily Caller News Foundation. "Both houses have been Democrat for 83 years and that leadership brought us the lowest income per capita in the country."
Carmichael blamed Democratic leadership for a loss in population and manufacturing jobs, then accused them of selling out to special interest groups.
Carmichael then praised Trump's leadership and said the state was economically liberated when he was elected to the White House in 2016.
"Trump was an immediate relief to the energy sector," Carmichael declared. "The night of the election it felt like the boot of the fed government had been lifted off our necks. President Trump has made a tremendous difference."
One of the main issues still lingering for West Virginia is the opioid crisis, but Carmichael believes it can be tied to the state's lack of economic prosperity.
"The most prominent area of opioid abuse are the places with the poorest economic climate," he said. "Even in West Virginia, the specific areas hardest hit with addiction are the ones hardest hit economically with high unemployment." – READ MORE
This article (The entire West Virginia Supreme Court was just impeached. Here's everything you need to know.) was originally published on True Pundit and syndicated by The Event Chronicle.