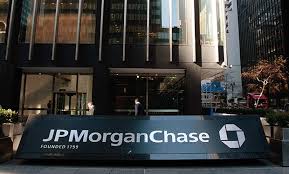 6/22/18 REUTERS LEGAL 21:56:15
REUTERS LEGAL
June 22, 2018
JPMorgan to pay $4.6 mln to settle Ponzi scheme lawsuit
Dena Aubin
(Reuters) – JPMorgan Chase has agreed to pay $4.6 million to resolve a proposed class action accusing it of aiding a Ponzi scheme at Caribbean-based Millennium Bank, which authorities say defrauded hundreds of investors with bogus certificates of deposits.
Disclosed in a Thursday filing in Boston federal court, the agreement ends a five-year legal fight by investors who lost money in the scheme, run by convicted Canadian banker William Wise. The investors alleged that Chase and its predecessor Washington Mutual let Wise steal millions of dollars of investors' money from accounts at the banks despite numerous signs he was running a fraud.
The deal requires the approval of U.S. Magistrate Judge Judith Dein, who is overseeing the case.
Chase spokeswoman Elizabeth Seymour said the bank is "pleased to have resolved this legacy matter."
Millennium had originally opened the accounts at Washington Mutual Bank, and Chase inherited the accounts when it bought Washington Mutual's assets during the 2008 financial crisis.
In court filings, Chase said investors failed to show that it knew about the fraud or substantially assisted in it.
The investors are represented by lawyers at Kozyak Tropin & Throckmorton and the Law Offices of Keith Miller.
"It's been years of hard-fought litigation but we are very pleased with this result," Tal Lifshitz, a lawyer for the investors, said in an email.
The 2012 lawsuit accused Chase of failing to promptly notify authorities or close accounts for Millennium Bank at its California branches after allegedly learning of the illegal scheme.
In Thursday's filing, lawyers for the investors said the settlement will give significant relief to an estimated 150 to 200 class members who lost money on the Millennium scheme. The investors will not get all their money back, but they faced significant expense if they had continued to litigate, the lawyers said, urging preliminary court approval of the deal.
Wise was sentenced to 22 years in prison in 2015 after pleading guilty to conspiracy, fraud and money laundering in connection with the scheme.
The scheme was shut down and Millennium, based in St. Vincent and the Grenadines, was put into receivership in 2009 after the U.S. Securities and Exchange Commission won a restraining order and a freeze of all assets of the bank, Wise and his co-conspirators, in Texas federal court. The SEC said Wise and several co-conspirators raised at least $68 million, targeting mostly U.S. investors, by misappropriating money that they had promised to invest in high-interest certificates of deposit.
The investors' lawsuit said Washington Mutual received alerts of suspicious activity in the Millennium accounts and investigated them as early as 2006 but failed to stop the suspicious activity or protect investors.
When Chase took over the accounts, it also took over the Millennium investigative files and reviewed the accounts, but it too failed to promptly notify law enforcement authorities or close the accounts, the lawsuit said.
Dein in 2016 had dismissed part of the lawsuit, finding that Chase was not liable for Washington Mutual's conduct before Chase acquired its assets. She said investors could pursue claims that Chase allowed Wise to defraud additional investors after it acquired the accounts.
The case is Mansor et al v. JPMorgan Chase Bank, U.S. District Court, Massachusetts District, No. 12-10544.
For the plaintiffs: Harley Tropin and Tal Lifshitz at Kozyak Tropin & Throckmorton and Keith Miller at Law Offices of Keith Miller
For the defendant: Beth Boland and Rachel Blise at Foley & Lardner
—- Index References —-
Company: JPMORGAN CHASE BANK NA; FOLEY AND LARDNER; FOLEY AND LARDNER LLP; WASHINGTON MUTUAL BANK; WMI HOLDINGS CORP
News Subject: (Business Lawsuits & Settlements (1BU19); Business Litigation (1BU04); Business Management (1BU42); Corporate Events (1CR05); Crime (1CR87); Financial Fraud (1FI18); Fraud (1FR30); Legal (1LE33); Major Corporations (1MA93); Social Issues (1SO05))
Industry: (Banking (1BA20); Financial Services (1FI37))
Region: (Americas (1AM92); Massachusetts (1MA15); North America (1NO39); U.S. New England Region (1NE37); USA (1US73))
Language: EN
Other Indexing: (FOLEY & LARDNER; WASHINGTON MUTUAL BANK) (Elizabeth Seymour; Beth Boland; Harley Tropin; Judith Dein; Keith Miller; Tal Lifshitz; William Wise; Rachel Blise)
Keywords: banking; fedlit (OCC:OLRTXT); (N2:US)Keywords:
Word Count: 589
End of Document
© 2018 Thomson Reuters. No claim to original U.S. Government Works.