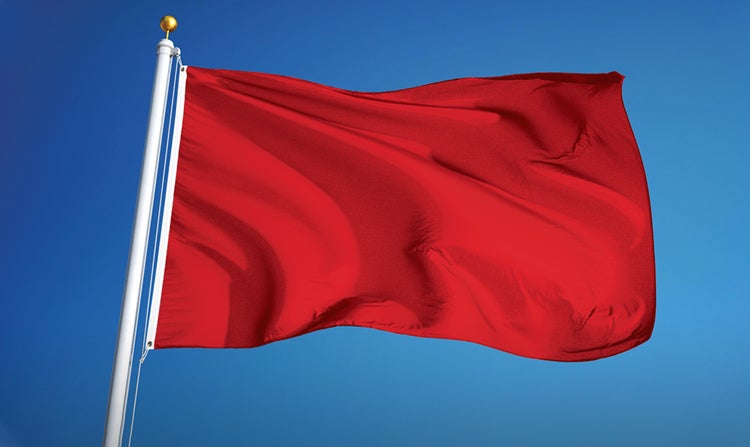 Some Red Flags About 'Red Flag' Laws
Beth Alcazar – 09/24/2019
A terrible tragedy occurred in my home state of Alabama last month. As reported by the local news, a father and his son were involved in an argument that led to the 70-year-old father shooting his 45-year-old son in the chest in what he claims was self-defense.
Soon afterward, the Alabama chapter of Moms Demand Action shared the news — along with a comment — on social media. They posted:
'Investigators said James Adams and his son, Alfred Dewayne Adams, were involved in an argument Sunday night. They further stated they believe James told Alfred he was going to bed. Alfred then walked into the bedroom and James shot him in the chest. Some of the neighbors and some other family members can tell us about stuff that was happening through [sic] the years.' This life could have been spared by utilizing a red flag law.
Some Questions
"This life could have been spared by utilizing a red flag law?" That's quite a statement. And I wanted to post a few questions to Moms Demand Action. First of all, I wanted to ask: If the father truly used a weapon in self-defense, would a "red flag" law have disarmed him … and then spared the life of his violent son? Would the father be dead, then, in this particular situation? Beyond that, do "red flag" laws cover all weapons in the home? What if the suspect had decided to use a knife? Or what about prescription drugs or poisons? Does it cover a person's bare hands and/or body? Could we confiscate those weapons, as well, whenever we feel there's "some stuff that was happening through the years?"
Some Examples
And what about the terrible case in which a son killed his father and wounded his mother with a knife? Two months ago, in Arizona, the Yavapai County Sheriff's Office reported that when the older couple returned home, "they noticed their 33-year-old son had consumed a large amount of beer. The parents argued with him over their drinking concern. He threw his phone at them and then went into the kitchen and grabbed two large knives. When he tried to stab his mother, his father intervened and attempted to restrain him while he was still in the kitchen. The son began attacking his dad. As the struggle moved from the kitchen into the living room, the son was able to stab his dad in the chest. The father collapsed to the floor."
Or there's this recent horror story from Illinois: A man in a Chicago suburb was arrested by local police after killing his own mother by stabbing her repeatedly with a samurai sword in the chest. Park Ridge Police had removed the murderer's firearms two times, with the last time being in July 2019. So the suspect didn't have a gun … but he still had evil intent. And he used whatever weapon he could find.
There's also the atrocity from Nevada a few weeks ago in which a 36-year-old man bludgeoned a woman to death with a sledgehammer in what Las Vegas police said was a random attack at a laundromat.
I could go on. But I won't. Perhaps you see the point.
Some Red Flags
Beyond the fear of just anyone pointing out someone else with a gun for no good reason or people wrongly having their firearms taken from them because of mistaken identity or possibly just being in the wrong place at the wrong time, there are so many red flags about "red flag" laws. Undoubtedly, we'd love to be able to stop crimes and keep bad people from harming or killing others. But this is not the movie Minority Report, in which police can employ some sort of psychic technology to arrest and convict murderers before they commit their crimes. Ultimately, we have to ask: Will "red flag" laws actually target violent people … or just people with guns? Because as the above examples (and countless others) show, the problem isn't the firearms.
About Beth Alcazar
Author of Women's Handgun & Self-Defense Fundamentals, associate editor of Concealed Carry Magazine and creator of the Pacifiers & Peacemakers column, Beth Alcazar has enjoyed nearly two decades of teaching and working in the firearms industry. She holds degrees in language arts, education and communication management and uses her experience and enthusiasm to share safe and responsible firearms ownership and usage with others. Beth is certified through the NRA as a Training Counselor, Chief Range Safety Officer and Certified Instructor for multiple disciplines. She is also a Certified Instructor through SIG Sauer Academy, ALICE Institute, DRAW School, TWAW and I.C.E. Training and is a USCCA Certified Instructor and Senior Training Counselor.
---
How many times have we heard about someone running over a bunch of people too. Even the car or truck can be a deadly weapon. If someone is dead set that they are going to kill, for whatever reason, they will find the tool to kill others with!
These gun grabbers want any possible way to take our protection from us. And these same gun grabbers are socialists/communists.
Impeachment can go more ways than one. These politicians that want to do away with the Second Amendment, work for us. When they were sworn in, they swore to honor and uphold the Constitution. Trying to do away with any of the Amendments to the Constitution, especially the Bill of Rights, is not honoring and upholding the Constitution. Violating one's Oath of Office is usually grounds for them to be removed.
I say let's remove their asses!
(Please note, I usually don't comment on my own posts).